Our Products
Nipping Press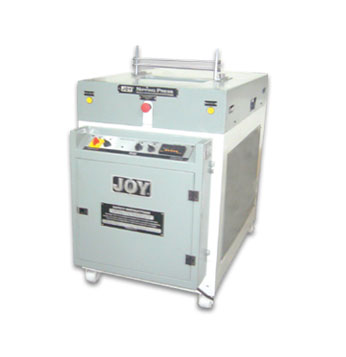 View the video of this product:
Download PDF

A process of reducing/knocking out the SWELL in the spine of thread-sewn Book-Blocks or gathered folded-forms (signatures) being prepared for Hard-Case or Soft Cover Perfect Binding. Ensures the Book-Blocks are rectangular in shape and free from extreme gradients in the folded/sewn area for quality and enhanced life of the BOOK.

PLC based Control Panel for optimum reliability and simplified diagnostics. Other operator friendly features are: Selection of Manual or Semi-auto mode; Counter for number of Book-blocks processed; Dedicated switches for Clamping and Nipping functions in Manual Mode. Emergency Switch & Recycle Push Buttons are conveniently located on the Top Cover.
Emergency Switch aborts the cycle and resets the machine to starting position. For operator's safety: both the Push Buttons are required to be pressed simultaneously for initiating the cycle; an intricate Safety Device (sensor based) is incorporated as additional protection in case of malfunction of Recycle Switches or the operator's hands are in the way of the clamping area. For uninterrupted production, Support Device is provided to ensure the book-blocks are held upright and are not allowed to sag to avoid triggering of Sensors during processing.
The high Speed blower/exhaust fan ensures the ambient temperature in the Power Pack Area is maintained. The latest Hydraulic Technology & Controls make it possible to process 700/800 books (single bookblock upto 30mm spine thickness) per hour. Castors provided for maximum space utilisation & mobility.
Power saving feature is incorporated. The motor switches off automatically after a pre-set delay time provided the Recycle Switches are not activated within the set time. Nipping results are best achieved if the signatures (soon after folding / gathering) are pressed in the 'JOY' Bundling Press.
Technical Specifications

Description

Unit

NP 33

Book Width


mm

330

Book Spine (Min-Max)

mm

20 - 110

System Clamp Pressure

kgs

4000

Nipping Pressure (Adjustable upto)

kgs

3000

Electrical Load/Motor

kw/HP

2.25 / 3

Electrical Supply

380/415V AC 50Hz 3Ph

Hydraulic Oil Capacity

ltrs

35

Overall Dimension (WxDxH)

cms

65x119x97

Net Weight (Approx.)

kgs

550