Our Products
Twin Book Press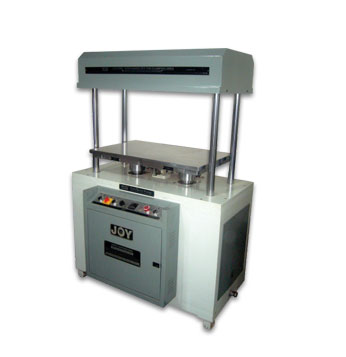 View the video of this product:
Download PDF

Hydraulic Book Press TBP-II with two independent stations with fixed Pile Height upto 400mm. The printed title can be pasted on open book or board to board size up to 810x525mm with single Platen & day-light area upto 400mm.

The press can be used either in Manual or Auto-Mode with each station alternatively or together, resetting to loading position after pre-set time. The option to set time on a Digital Timer in Seconds (from 001 to 999).


The option available for use are : Independent control through separate switch for left and right hand side Platens through SELECTOR position No.1..

By selecting the 2nd position, the stations (platens) will operate in tandem to a pre-set duration in Auto-mode..

In SELECTOR position '1 & 2' both the Platens will move up simultaneously with combined force of 12000 kgs. Single Platen supplied for pressing Books, Account Ledgers, Book cases & Boards etc. of large formats..

Hydraulic system is based on 2 HP Power Pack and pressing force adjustable upto 6000 kgs on each station..

Conveniently located Control Panel. Castors are provided for maximum space utilisation.
Technical Specifications

Description

Unit

TBP II

Pressure Platen Size (Twin)

mm

380x480

Pressure Platen (Single)

mm

810x525

Pile Height (Min-Max)

mm

225-400

System Clamp Pressure (Each Platen)

kgs

6000

System Clamp Pressure (Single Platen)

kgs

12000

Electrical Load / Motor

kw / HP

1.5 / 2

Electrical Supply

380/415V AC 50 Hz 3Ph

Hydraulic Oil Capacity

ltrs

30

Overall Dimension (WxDxH)

cms

120x71x163

Net Weight (Approx.)

kgs

850