Our Products
Smashing & Nipping Press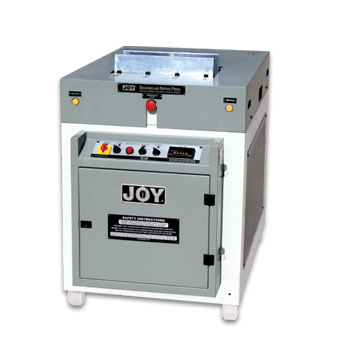 View the video of this product:
Download PDF

Smashing is the process of compressing and removing the air from the folds and flattening of the Overall area of the Book-Blocks. Smashing strokes can be set in multiples to suit the compacting requirement for the desired rectangular shape. After the Smashing cycle the Book-Block is held firmly and Nipping operation follows for knocking out the excessive swell in the spine. Book-Block should be rectangular in shape and free from extreme gradients in the folded sewn area for quality & enhanced life of the BOOK.

Smashing strokes (adjustable) Ė from one to nine with two Nipping strokes, timing set in increments of 0.1 Seconds through the PLC (Programmable Logic Controller). The Smashing and Nipping hydraulic pressure is adjustable. Production speed of 600 to 700 Books (single Book of 30mm spine thickness) per hour can be achieved.

Some of the other operator friendly features on the PLC are Manual & Semi-Auto option &Counter for number of Books processed. Dedicated Switches for Clamping (Smashing) and Nipping functions provided on the control Panel. Emergency and Recycle Push-buttons are located conveniently on the Top Cover. For operatorís safety: both the Push- Buttons need to be pressed simultaneously and Emergency Switch aborts the cycle immediately in case of an accident. Safety Curtain (sensor-based) is incorporated for operatorís protection. The Smashing (Clamping) / Nipping operation is instantly aborted on breach of the Safety Curtain. This feature is a foolproof measure to protect the operator from any accident etc.
The high speed blower / exhaust fan ensures the ambient temperature in the Power Pack Area is maintained for optimum efficiency and extended life of the parts & equipment.

Optional Pressure Plates to suit Book-Height in excess of 220mm, can be supplied on request. Pressure Plates of size 130mm,180mm, & 220mm are part of the standard accessories. Power saving feature ensures the motor switches off after a pre-set delay time (incase the Recycle Switches are not reactivated). PLC based system for optimum reliability & simplified diagnostics. Castors for maximum mobility.
Technical Specifications

Description

Unit

SNP41

SNP46

Book Block Size-Spine Width (Max)


mm

410

460

Book Spine Thickness (Min-Max)

mm

20-110

20-110

System Clamp Pressure (Adjustable upto)

kgs

5000

6000

Nipping Pressure (Adjustable upto)

kgs

3000

3500

Electrical Load / Motor

kw/HP

2.25 / 3

2.25/3

Electrical Supply

380/415V AC 50Hz 3Ph

Hydraulic Oil Capacity

ltrs

35

35

Overall Dimension (WxDxH)

cms

73X119X96

79x119x96

Net Weight (Approx.)

kgs

720

780